"I held the doors open."
Every day, it feels as though there's a new legal decision, state law or news headline about abortion, with individual states and regions all finding different ways to erode or protect our access to reproductive health care. It's chaotic and confusing for pregnant people and advocates alike. 
In search of some perspective, we invited Vivienne Esrig, Mixte's Vice President of Operations, to share insights from her decades of abortion activism. "Back in the late 80's, early 90's, I was spending every weekend out at abortion clinics holding the doors open…and creating literal, physical barriers to let people in," she shares. "It was intense. We were fighting a big anti-abortion movement. So there was a lot of movement to activate people against court cases trying to make dents in Roe v. Wade."
Vivienne also spoke about how things feel different now: "I don't think anybody could have conceived the day of Roe v. Wade being overturned. Now, it's so much more of a regional fight." That's part of what makes the news so exhausting these days: It can feel harder to know where to direct our energy, how to channel that immediate instinct to do something when abortion comes under attack in a different state. Fortunately, groups like the National Network of Abortion Funds offer a way to find and support grassroots activists in battleground states. NNAF comprises more than 80 organizations that have been working deeply within their local communities for years to remove financial and logistical barriers to abortion access.
Getting to know local abortion funds is one way to feel more connected and capable as part of today's fight. It shows us how communities all across the country are still bravely coming together to get people the abortions they need. And it gives us a chance to contribute to their efforts; to help keep their doors open no matter where we are.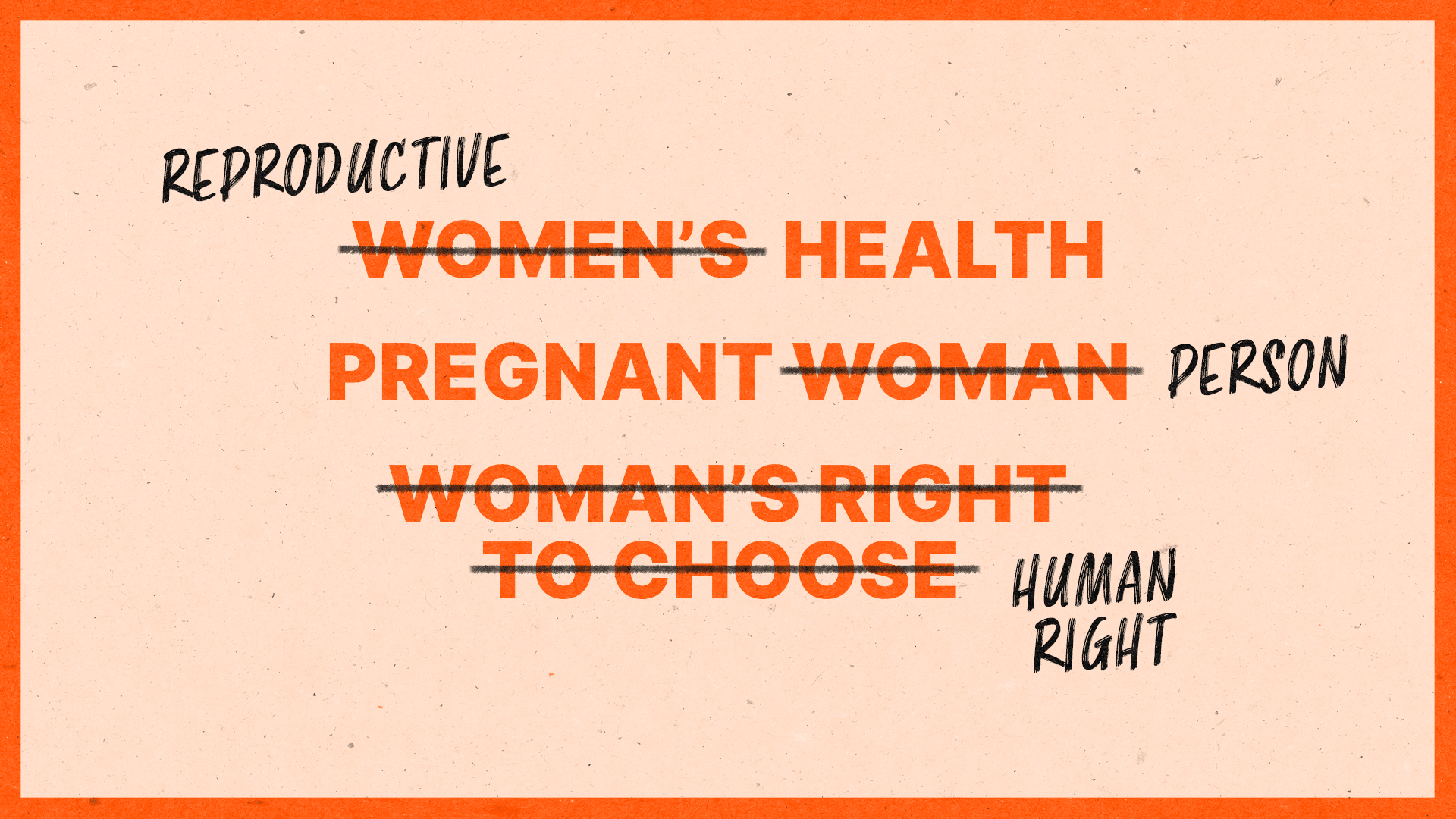 What we talk about when we talk about abortion
As activists and communicators, we know that our language around social issues can make a difference. This is especially true when it comes to abortion and reproductive justice.
Coined by SisterSong Women of Color Reproductive Justice Collective in 1994, reproductive justice is "the human right to maintain personal bodily autonomy, have children, not have children, and parent the children we have in safe and sustainable communities."
This expansive view is often missing from mainstream abortion messaging, and it's time to bring it back. It encourages us to focus on the institutional and systemic barriers to care—and demands economic, social and political power for women and gender-expansive people to dismantle those barriers. 

It's always been about power
The United States has long controlled what people do with their bodies. And the goal has always been to keep power in the hands of white, cisgender people (most often men).
This country built white wealth through slavery. In the 1900s, states forced or coerced Native American, Black, Latinx, incarcerated and disabled people into sterilization. And today, new laws aim to end gender-expansive people's autonomy over their health care.
Abortion bans are part of this pattern. They mark yet another sexist, white supremacist attempt to uphold the status quo by controlling what we can do with our bodies. 
The point is, many oppressions share the same foundation. It means we can't talk about abortion without talking about racial equity, trans rights, and accessibility. That's because our goal as social justice advocates must always be to put power back in the hands of the people—all people.
Want to read more? Check out these inspiring op-eds:
There's more where this came from. Curious about all the other ways you can supercharge your marketing and communications to make a bigger impact? Introduce yourself here and let us know how we can support your work!