My first day at Mixte, one of the first questions my new coworkers asked me was "So, do you have a bike?"
I knew this going in. You can't visit our website without seeing we're obsessed with bicycling, and my biking experience had even come up in my interview.
What I hadn't expected was a full initiation into bike commuting culture my second week on the job. Enter: Bike to Work Day.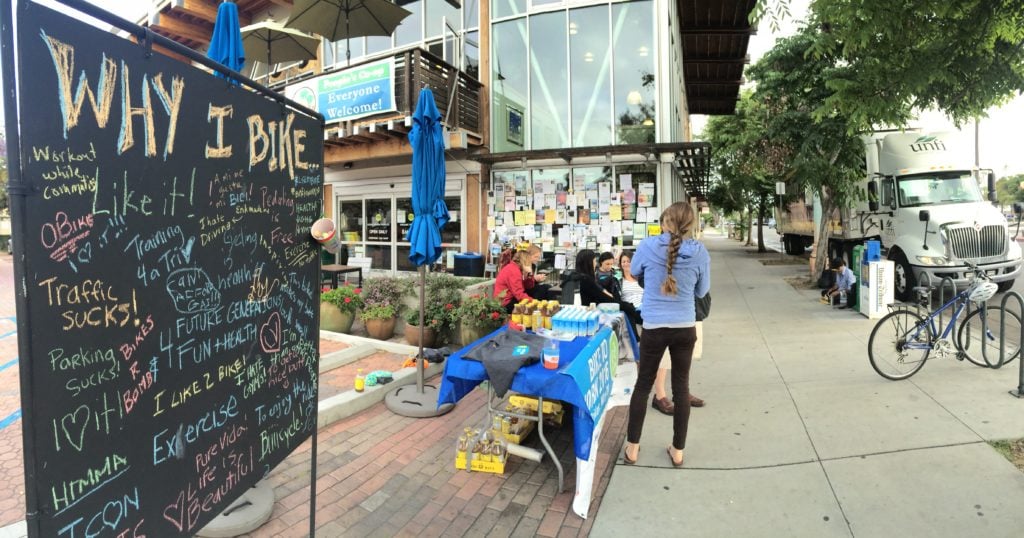 I scrounged up a used bike over the weekend. Around 6 a.m. on Friday, my wheels screeched to a stop at People's Grocery, one of our favorite Ocean Beach neighbors that partnered with us to host this pit stop.
One by one, commuters rolled by, and we handed them free T-shirts, granola bars and cold-brew coffee as they told us their stories.
A blonde woman in a bright purple jacket talked about how thankful she was to just be commuting 10 miles a day instead of 20. A few veterans had collected T-shirts from every year's Bike to Work Day – and this wasn't their first pit stop of the day either. A little girl shyly accepted a biking sticker; she was on her way to elementary school.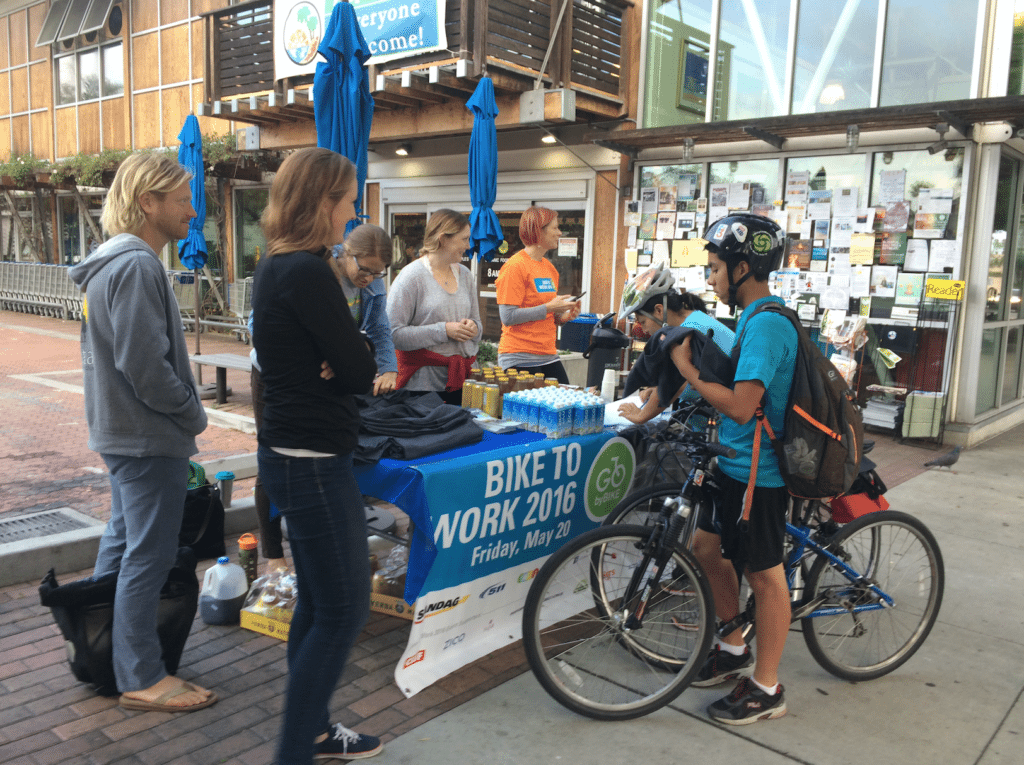 As part of our pit stop, we put up a huge chalkboard with "Why I Bike…" written across the top. As the morning went on, cyclists filled the entire board with their reasons for this awesome lifestyle. And the motivations were as diverse as the types of people who stopped by to say hello that morning. Exercise. The environment. Because traffic sucks. To make my butt look good.
As I spent that early morning getting to know the incredible San Diego biking community, thought about why I've decided to become a part of it.
Is it because I want to be as cool as my coworkers? Because, it's a better energy boost than caffeine? Because, I never have to worry about finding a parking spot?
I thought about my early ride that morning. There were barely any cars on the road. The morning air felt refreshing, and my sleepiness wore off after just a few minutes. I noticed more of my surroundings and I made mental notes of things to visit sometime — like that adorable coffee shop, a cool vegan restaurant and a native plant garden. That day, I biked to work before 6 a.m., and I was really happy to be there.
I grabbed a light blue piece of chalk and wrote: to enjoy the ride.