This blog post was written by a Tracks Apprentice as part of our internship program with the San Diego Housing Commission.
Funders Together to End Homelessness San Diego (FTEHSD) is a collaborative of individual, public and private funders who are investing in effective systems change and in services to end homelessness in San Diego County, and who are dedicated to establishing policies that dismantle the inequities built into these systems.
While both the city and the county of San Diego's plans to end homelessness revolve around a "housing first" model, public support for those plans hasn't followed. FTEHSD partnered with Mixte to find the most effective messaging that ensures San Diegans consider housing as the solution to homelessness. Together we conducted a yearlong multi-faceted research campaign that: 
Reviewed national messaging research

Identified what San Diego leaders are saying

Conducted polling of San Diego constituents

Implemented a 5-month digital marketing research
Collectively, each phase of the campaign acts as a pillar to create public agreement that housing is the solution to end homelessness.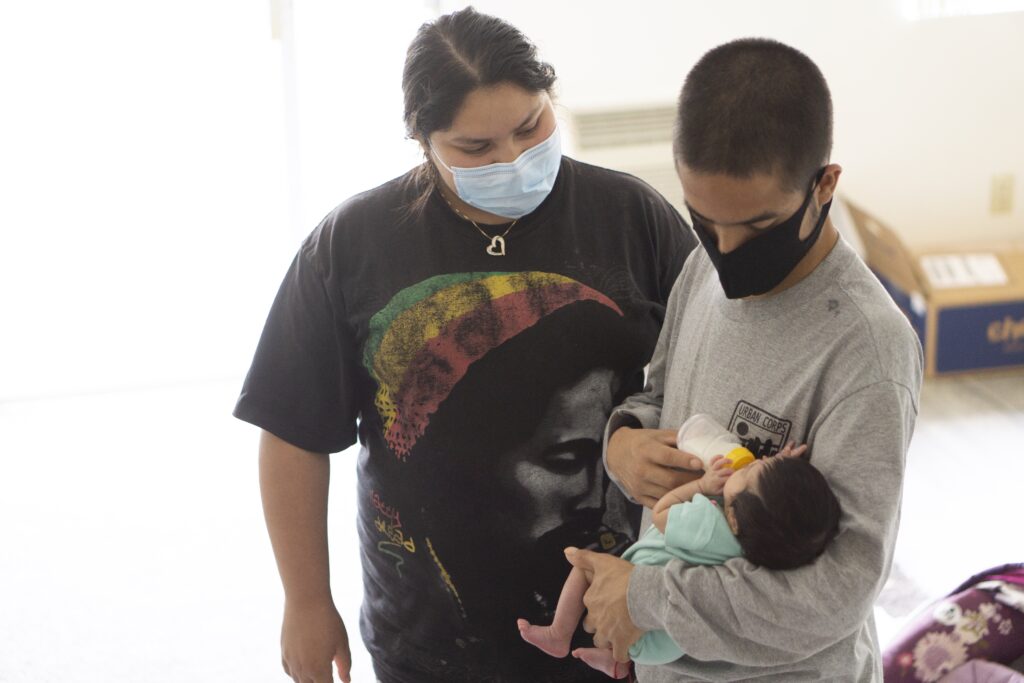 What messaging resonates most with San Diego Residents? 
From the onset during the listening and learning phases of this project, three dynamics emerged that were impacting the ability to move forward with public agreement that housing is the solution to end homelessness:
Debunk the interpretation of Housing First


This seems like a given. What we learned, though, is the critical platform elected officials have at their disposal to address common beliefs and to educate the public on real solutions.

Media outlets are covering the topic of homelessness more and more


If we're going to amplify the message, here's a wonderful opportunity to unify the messaging from another group with large distribution platforms.

Social media plays a huge role


This arena provides a platform for local leaders to spread their word, allows a greater number of people to be reached and makes it possible to gauge when sentiment is being moved.
Before launching the campaign, our team identified themes within the national literature research and through a media scan of local San Diego leaders that were being consistently used. These were polished more specifically to become the five different messaging themes Mixte tested for this campaign: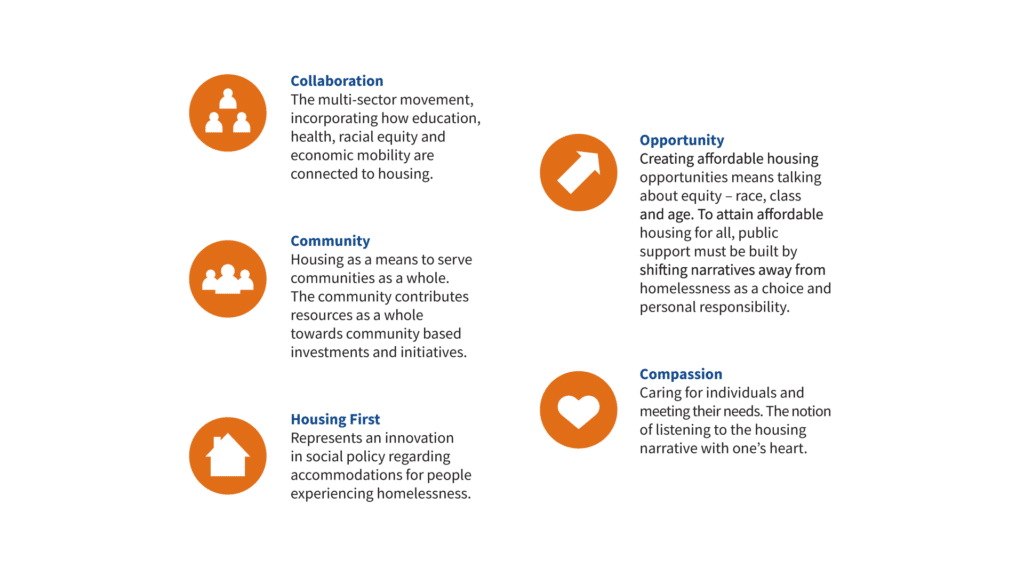 We then tested these messages through public opinion polling of a representative sample of San Diego high-propensity, moderate voters through a combination of phone interviews and online surveys. Finally, we then took this testing to the social media space by conducting digital ads through FTEHSD's platforms, where we could gauge sentiment and engagement. 
Our team concluded that a message centered around opportunity is the most receptive due to its use of clear and direct language, as well as the ease of highlighting relevant information. In an effort to create a consistent message from community leaders and government officials, FTEHSD and Mixte worked to create a messaging triangle to hone in on all the key points to reinforce that housing is the best solution to end homelessness, and partnered together to train over a hundred members of the Regional Task Force on the Homeless (RTFH).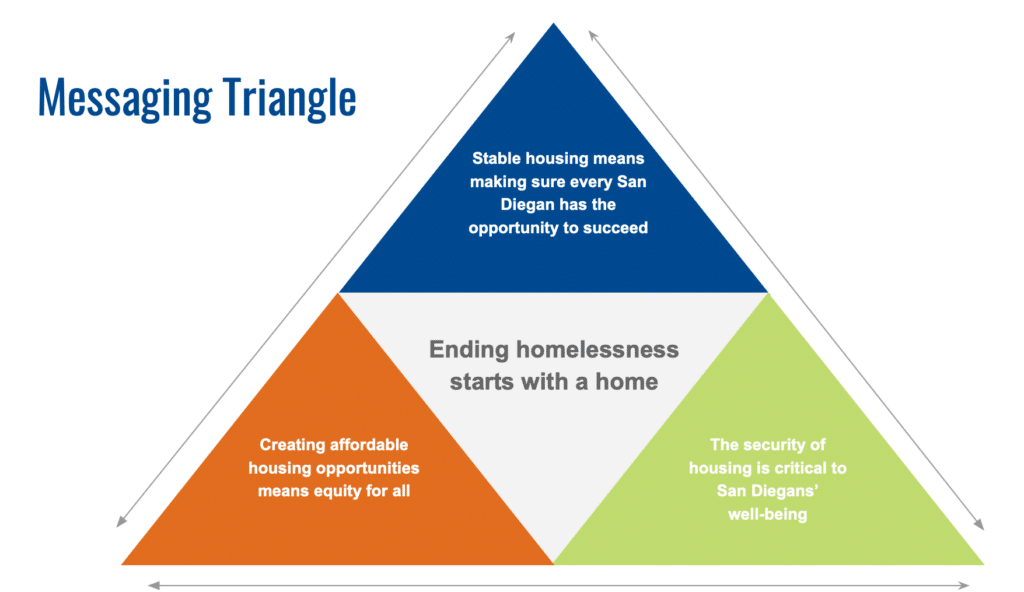 Recommendations for this messaging to make a difference
Our team wrapped up the project by providing a roadmap of immediate things local players can do to build momentum:
Providers get on the same page about messaging and use the messaging triangle.

Homelessness service providers are a large group that can drive a consistent message reinforcing the right solution to end homelessness with voters and elected officials.

Local officials and providers agree about housing as the solution to end homelessness.

We can then support people on their path to positive mental health with programs like: social inclusion services, care that addresses trauma and crisis intervention.

City and county officials properly plan by considering a timeline for solutions.

San Diego residents are asking for plans that include clear goals and regular, transparent progress reports to know if the region's on track.

Community leaders build public support for the current priorities to address homelessness that have been developed by the RTFH, SDHC & City/County priorities.

The City and County of San Diego both promote evidence-based approaches to solving homelessness including Housing First.

Involve the City's Office of Race & Equity and County's Office of Equity & Racial Justice in the process.

To establish policies against racial and systemic discrimination that lead to a disproportionate number of Black people experiencing homelessness. 

Government officials find short-term solutions to support more permanent housing answers.

Immediate short-term solutions such as shared housing, rental subsidies and reducing criminalization should be used while permanent housing solutions are resolved. 
Through this campaign, FTEHSD gathered insight on how community leaders at all levels can deliver a more consistent message to San Diego residents that may bring consensus around the idea that housing is the solution to homelessness. And these efforts by FTEHSD have been awarded, achieving national recognition with the following awards in 2022:
National Bronze Anvil: Research/Evaluation 

National Bronze Anvil: Best Use of Data/Analytics

National Bronze Anvil: Most Effective Paid Promotion

National PRNEWS Platinum PR Award Honorable Mention: Community Engagement
National PRNEWS Platinum PR Award Honorable Mention: Public Affairs
Through a disciplined use of messaging centered on an "opportunity" theme, more San Diegans, over time, could see that Housing First presents the best path to drastically solve the region's homelessness crisis. FTEHSD now uses this messaging to change the tone around homelessness and to advocate for housing as the solution.
For more information on the campaign and to learn more, check out the full version of FTEHSD's whitepaper. 
Want to explore how a social justice communications agency can provide communications strategy and support for your nonprofit? Send us a message to get started today or call us at 619-732-0789 x 526.