"My communications staff just gave notice, and I don't know how to fill the role. Help!"

– Said many of Mixte's nonprofit clients
Yep, that's a thing we hear often. Career moves are common, and so are long vacancies for things like Family Leave. 🧑‍🍼🍼💩 It may seem overwhelming at first, but your friends at Mixte find joy in filling the staffing gap. 
Given that we love being your interim strategic communications partner, we thought we'd explore why it's an effective option for your peace of mind.

Reason #1: You can conduct a communications assessment to identify what's working, what's not working, and what you're missing
In medium-sized nonprofits (think 10 to 40 staff members) with a one- to two-person communications department, we often witness two trends in their communications staff:
The role turns over often

The role has a long-tenured communications director.
We find that it takes around a full year (yes, one full year – we are not exaggerating), for a full-time staff person to truly get up to speed on their work. From organizational culture and knowledge; the wider social justice community and systemic racism issues; and, the technical aspects of storytelling in the digital space, there is so much to learn. That means, when your communications staff turn over every one to two years, you're barely getting effective communications rolling.
On the other end of the spectrum, we see the organizations that are lucky enough to hold onto their communications director for five to ten years. While there is a ton of benefit in this, it can also come with limitations. We observe that these folks may be strong in one area – like website management, media relations, or social media – but they often miss opportunities to push the organization's communications through unfamiliar strategies. They are, after all, only one person – not even a superhero could do it all. 
When you hire an agency like ours that specializes in nonprofit communications, we arrive with an outsider's perspective driven by the expertise of a comprehensive team to assess your organization's current communications approach and provide data- and experience-backed recommendations on how to improve or evolve your efforts. 
What this looks like in action: Our work with the ACLU of California addressed a punctual pinch-point with communications needs across the state, and we started problem solving with them by conducting what became an award-winning assessment.
Reason #2: You can work with an entire team of experts to try different strategies
When you have an interim team, it allows you to quickly test new strategies. This is helpful in a few ways. First, depending on what you learn, it can help you develop a new job description to find the right next full-time staff person. Conversely, it can provide useful insights for your communications director, if they happened to step away for a temporary period.
Have you wondered how to get more press coverage?

Do you keep hearing about Google Ad Grants, but you're not sure where to start?

Do you wonder if your email program is effective?

Do you consider if influencers could be a way to reach your community?

Have you questioned if old-school print ads might help?
We have experts in each of these strategies who can guide you through a pilot program to learn what's right for you.
What this looks like in action: Accessity's long-time communications director took a temporary leave of absence, and we jumped in to assess their communications and test out a few things along the way. See what we piloted and how we provided on-the-job training for their team.
Reason #3: It provides you time to carefully recruit your next hire without unnecessary stress
Hire slow; fire fast. It's the old adage that we all know when looking for our next staff. And during the Great Resignation, we experienced the polar opposite: the impossibility of hiring communications staff before they accepted another job. It feels like a high stakes game, but we all know that we want to find the right teammate who will fit into organizational culture and thrive, so the organization continues to shine.
Hiring an agency like Mixte for three to six months to keep your communications rolling can relieve a lot of pressure on the organization and its program staff. This allows you time to craft your job description, get it posted, use your network to recruit from diverse communities, and to interview folks at the pace that works for everyone.
What this looks like in action: We've been supporting Father Joe's Villages for many years, and during the fall of 2022, its team experienced turnover. The executive team turned to us to expand our existing contract to include copywriting, social media content, client coordination, and email marketing. Kudos to this team, as they recognized keeping us in the expanded role during their new communications director's onboarding process would create a better opportunity for their new staff to get up to speed before turning on the firehose of comms needs.
Reason #4: We're in the nonprofit social justice space, so it's easy to jump in and get to work
You'll hear us say this time and time again – communications staff at social justice nonprofits need to be experts in three areas:
Systemic racism and associated policies and impacts on communities of color

Your organization and how you fit into the puzzle

Latest trends and strategies in traditional communications and digital media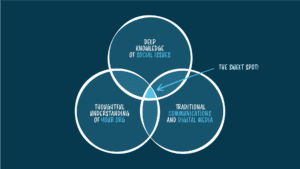 It's a lot for any one person to know (trust us, we get it because we face these needs at Mixte, too). It narrows the field for qualified applicants, while it also opens opportunities for transferable skills (we love those). At the same time, that means that it takes a considerable amount of time to find the right person and to let them simmer long enough for the talents to bloom. It takes patience. 
That's why hiring a communications agency that specializes in social justice issues can be a breath of fresh air during times of transition. We know the issues; we're efficient communications machines; and we've got an expert on staff to help with the most niche communications needs. If you want things to start working right now, call on us right away.
What this looks like in action: Well, just take a look at any of our clients to see how. It's different for each and every one. You can see how quickly we created a five-month strategy to pilot new strategies with Accessity. Or check out the award-winning social media strategies that we implemented for Habitat for Humanity of Orange County when its comms director was on leave. 
Want to explore how a social justice communications agency can provide interim communications strategy and support for your nonprofit?
Get a hold of us to get started today or call us at 619-732-0789 x 526.