When the idea of Mixte was in its infancy, our founder ran the idea – one of a boutique agency dedicated solely to social change — by a few respected leaders in the marketing world. "It will never work. You must widen your niche to make profit," they said.
But she persisted, and by standing on the shoulders of giants, those leaders who have been fighting for equity and equality through history and in the face of today's realities, Mixte is again facing into the storm.
We are drawing a hard line around advertising on Facebook and Instagram

—

we don't do it any longer
Life is short; our choices matter. We made the choice to be a social justice communications agency, focusing on amplifying the voices of changemakers. We made the choice to invest in local actions to achieve global change. Today, we're making the choice to stop paying Meta for advertising.
Why?
Because Meta — the company that owns both Facebook and Instagram, among other channels — has proven time and time again that it stands for everything Mixte and our clients do not. 
It would be much easier to continue the practice of advertising our clients on these platforms, and we know that this decision can affect our business. But just as we disagreed with our early-on naysayers, we don't think profit and success require the continuation of harmful business practices. 
We will adapt, become smarter marketers and ultimately serve our community better because of this decision — we will not advertise on Facebook and Instagram until Meta substantially reconfigures its approach to spreading hate.
How did we get to our decision to cease advertising on Meta's Platforms?
We'd like to thank the leaders and participants in the #StopHateForProfit movement.  
This ongoing campaign holds "social media companies accountable for hate on their platforms." Its 1,200 members believe that social media should immediately prioritize people over profit, something that we've been doing since our inception 10 years ago. However, until today we haven't done what these leaders, like Patagonia, started doing in July of 2020 — pulling all advertising dollars from Facebook and Instagram, effectively using economic drivers paired with public calls for action to get measurable change within Meta and other social media platforms.
How's it working? Sadly, when profit is involved, change is slow. 
Is Meta's model really that bad for social justice?
It's worse than bad. Mixte's and Meta's values are in direct conflict. We've always been clear about our values and Meta continues to take actions that directly conflict with them. At Mixte:
We use our privileges to fight for equity. We proudly partner with organizations advocating for safe and fair elections, including

Sojourners

and the

League of Women Voters of California

, who both invested in public relations and digital marketing campaigns to ensure historically marginalized communities felt informed, empowered and safe heading into the 2020 election. Meanwhile,

Facebook has been found to consistently allow its platform to spread blatant misinformation around these pivotal moments of civic engagement and democracy.

We nurture our community and embolden leaders and organizations doing the work. While we collaborate with partners like

The California Endowment

and the

ACLU of California

to amplify initiatives steering us toward racial justice and health equity, Facebook has

created "race-blind" policies that negatively impact its Black users the most

and made no changes when this was brought to their attention. Even

the company's own auditors agree that Facebook's policy decisions significantly undermine civil rights progress

.

We believe in the potential of humankind to protect our people, communities and planet. That's why we partner with initiatives like

WE RISE

, to support mental health and healing for diverse communities throughout Los Angeles County. Yet, Facebook

offers a ten strike policy for anyone caught selling guns on its platform

— yes, you read that right. Ten opportunities for people to continue selling guns on Facebook, while we know that

communities most impacted by gun violence

are historically neglected already.
We cannot continue to put our clients' limited and hard-earned funds into platforms that are egregiously designed to work against the world we're trying to build. Enough is enough.
So, what exactly do we mean when we say we're no longer investing in paid advertising on Meta?
This is not a boycott of Facebook, Instagram, and other Meta platforms all together, and we aren't telling anyone to stop posting on their social media channels. It is, however, a boycott of giving any money directly to Meta via paid advertising, which includes advertising and boosting posts. 
But, we also see how people use these platforms to build community. We will continue to develop organic content with our clients, and for ourselves, knowing that we can use our creative thinking and financial investments in other platforms to generate results that reach our goals. 
The simple truth is, we don't need Meta to get your messages out there. 
As trust in Facebook is dwindling (32 percent of users don't have confidence in the platform's safekeeping of their data and privacy), people are moving away from the platform. Meanwhile, the ad market on both Facebook and Instagram is becoming increasingly oversaturated, which means it costs more to get your content to stand out to your audiences, and it's not as effective of a tactic as it once was. Sure, it's the easy option, perhaps the more familiar one – but does that make it the best one?
Moving away from relying on Facebook and Instagram advertising actually creates room to explore new creative and courageous communications strategies and use out-of-the-box thinking to reach our target audiences. Our work with the League of Women Voters California shows us that it's possible to craft award-winning campaigns without relying on Meta.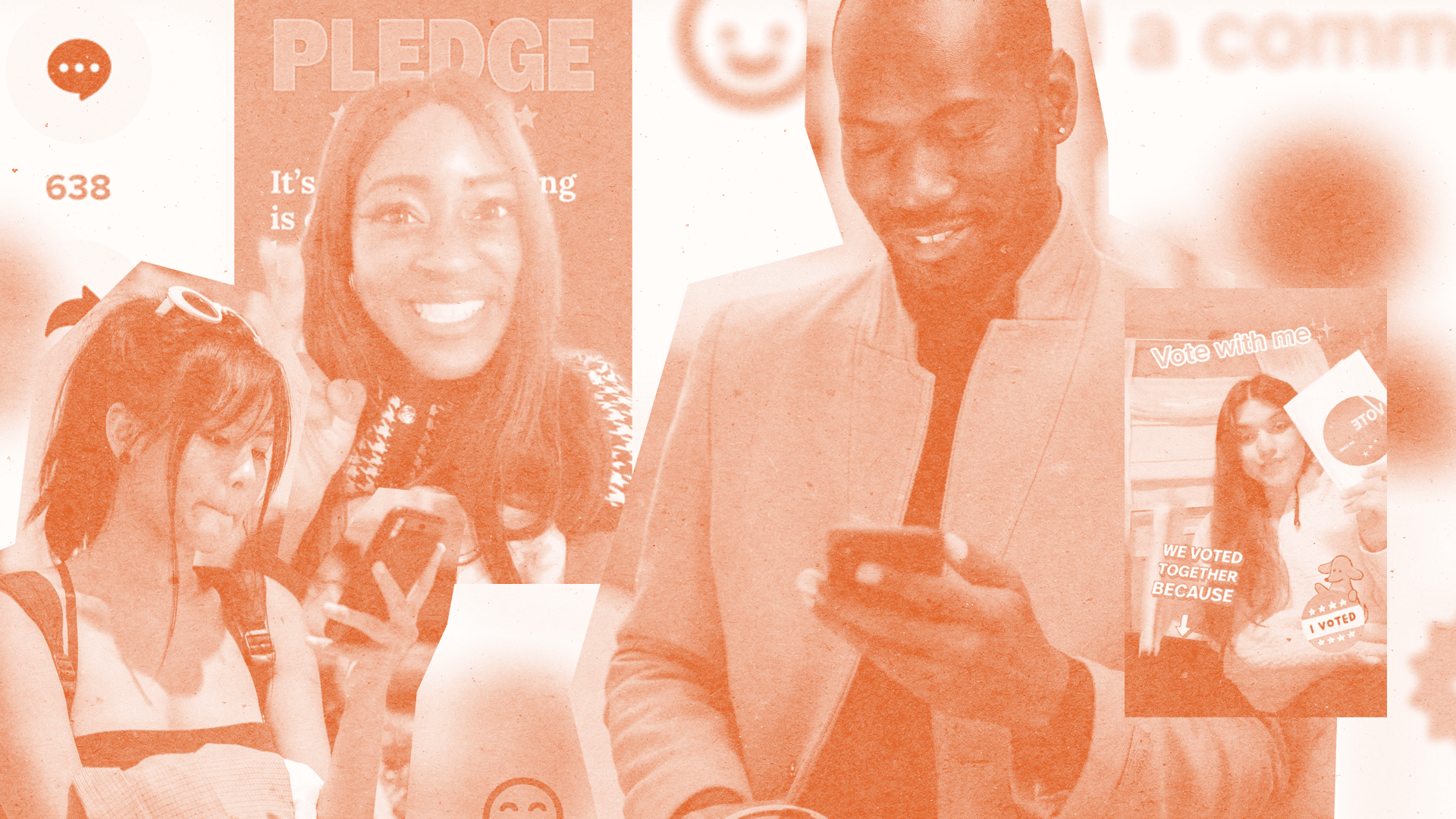 As a social justice communications agency amidst a growing media and digital landscape, we have an abundance of opportunities to directly, efficiently and creatively connect with our audiences — and in ways that feel more genuine, too. We want to invest in those who align with our values and our clients' values — not fund those who seek to quietly dismantle them.
Formalizing this policy is aligned with other ways that we try to be better stewards of our financial investments. 
Our employee retirement investment option offers environmental, social, and corporate governance (ESG) packages 

We shop online at blaisdells.com before choosing Amazon 

We have a list of BIPOC-owned and LGBTQIA+ owned partners who excel at marketing, photography, video, media buying, translation, etc 

We're formalizing our policy to prioritize buying lunch and products to improve our home offices from locally owned, underprivileged retailers in the cities where our staff live 

And, we're going to move away from our current big business bank to one that better represents our core values
Our choices matter. Where we spend our money matters. When we stop investing our advertising dollars into Facebook and Instagram, we stop letting them be the gatekeepers to our communities. We stop funding hate and reckless perpetuation of harm. 
We know in the grand scheme of things, we're a small drop in the ocean of the economic engine that is Meta, and our boycott will likely not even make it onto the Meta radar. But we believe in grassroots change. We believe small choices can make a big impact. At the end of the day, whether or not it inspires change in others, this matters to us. 
Got more questions? We've got answers. Check out our FAQ on our policy here.
If you're inspired by this, we'd love to hear from you at mixte@gomixte.com. We'd also love to help build your own digital and public relations campaign that breaks down voting barriers and advances justice for LGBTQIA+ communities and communities of color.